---
---

I.A.M. Family Convenings are powerful fun!
And everyone is welcome!
We are moving forward into the glorious light of the Kingdom of heaven with convenings for 2022.
Please plan to be with us!
June 15, 16 & 17, 2022

"The Heart of the Father!"

"Behold, I am going to send you Elijah the prophet before
the coming of the great and terrible day of the LORD.
He will restore the hearts of the fathers to their children
and the hearts of the children to their fathers,
so that I will not come and smite the land with a curse."
Malachi 4:5-6

Hosted by: Hope Chapel
Pastors David & Sharon Cramer
3429 RT 9
Valatie NY 12184


June 19 is Father's Day
Please make these I.A.M. Family Convenings targets of
overcoming Kingdom declarations, and let's come together!
---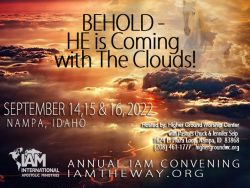 BEHOLD! He is Coming with the Clouds!

"Blessed is he who reads and those who hear the words of the prophecy, and heed the things which are written in it; for the time is near." – Revelation 1:3

"BEHOLD, HE IS COMING WITH THE CLOUDS, and every eye will see Him, even those who pierced Him; and all the tribes of the earth will mourn over Him. So it is to be. Amen." – Revelation 1:7

September 14, 15 & 16, 2022
Higher Ground Worship Center
Hosted by: Pastors Chuck & Jennifer Seip
Address: 1624 E Plaza Loop, Nampa, ID 83686
Phone: (208) 461-1777
---
---
Check it out!
Some of our past Convenings
have come and gone but the memories
we made will never be forgotten!
You can find photos on our
Facebook page