I.A.M. Convenings are Powerful Fun!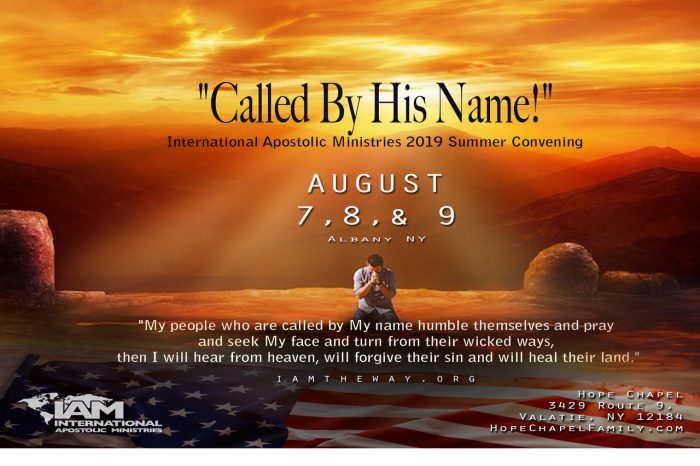 "Called By His Name!"
"My people who are called by My name humble themselves
and pray and seek My face and turn from their
wicked ways, then I will hear from heaven,
will forgive their sin and will heal their land."
I.A.M. Summer Convening!
Upstate New York
August 7, 8 & 9, 2019
@ Hope Chapel in Valatie, New York
Pastors David & Sharon Cramer
Start planning for this year's I.A.M. Family Convening in Albany, New York. Put these dates on your calendar and begin your travel plans to be with us.
Important travel information is available here: Click
Where?
Hope Chapel
Pastors Dave & Sharon Cramer
Facebook
Address for meetings:
3429 US 9, Valatie, NY 12184
Hope Chapel on the web 
Email for information: hopechapelfamily@gmail.com
Phone for information: (518) 303-3707
Meetings/Sessions Schedule here
---
Check it out!
Our 2019 Winter Convening in San Diego has come and gone but the memories we made will never be forgotten!
You can find photos on our Facebook page