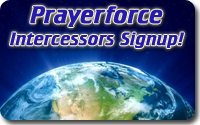 PrayerForce is a growing team of intercessors spread across the nations that receive prayer targets from the Apostolic Directors of IAM via E-mails, Text Messages and/or Social Media. We utilize these mediums of communication to rapidly place the prayer needs in front of dozens of intercessors who have a heart to bombard heaven with their petitions and see change happen on earth. We are already seeing powerful results from these prayer targets being sent out to the group we have, and now we are looking to expand that group. If you want to join this team, then read on and signup for the method(s) of communication that you would like to be contacted, and by all means, spread word of this team to your friends.  
 To sign up to receive our IAM PrayerForce Prayer Target emails, Click Here!
When there is a true, time-sensitive emergency, we utilize the near instant communication power of group text messaging to get out the prayer requests.
If you would like to be on our list to receive emergency prayer targets, click the icon below and add your phone number to the list. Keep in mind, standard text messaging rates apply.
We will also put PrayerForce Targets on: Twitter: http://twitter.com/iamfamily Facebook: http://facebook.com/iamfamily