by Wayne C Anderson
There are specific scriptures that I call pivotal because, in some way, the truth of what is said is revealing the heart's desire of our Creator and Father, the Master of the universe. These pivotal scriptures are frequently hidden in some memorable happening or prophecy. Yahweh will reveal the intent of His heart and show His will and desire even though His love was often shunned in those biblical days. Notwithstanding, His love remains as a strength for the believers of the future.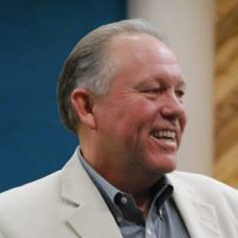 One such pivotal scripture is found in 2 Chronicles 5:11-14 when the Presence of Yahweh came in a most incomparable way. Let us focus on the phrase "He indeed is good for His lovingkindness, is everlasting." When you read of this extraordinary event, you see the heart's desire of Yehovah to be with His children. It is significant that 120 trumpeters and singers are exclaiming in unison of Yahweh's goodness and love. These wonders were repeated in Acts chapters one and two when there are 120 believers in unity proclaiming Yah's love. In both instances, a portal of heaven is opened, and the Presence and will of Yehovah manifested upon the earth. The Presence is described powerfully in both incidents.
Love created all that exists. Love voiced His great desire, and even nothing obeyed and became something. Love is of Elohim and Elohim is love. (1 John 4:8) Just think of it. Love creates.
Yahweh revealed Himself to David in His lovingkindness (Hebrew: chesed-meaning, love, mercy) and His goodness. David sought Yahweh's goodness amid terrible circumstances, and he found the substance of that goodness in all of creation.
David sought Yahweh's loving kindness in the tough seemingly impossible circumstances, and he found the substance of that love flowing to him and through him to rescue him. From his emersion in that love, David composed the psalms by love's divine revelation. He sang with all his heart, "I have called upon You, for You will answer me, O El, Incline Your ear to me, hear my speech. Wondrously show Your loving kindness, O Savior of those who take refuge at Your right hand from those who rise up against them. Keep me as the apple of the eye; Hide me in the shadow of Your wings." (Psalms 17:6-8) David found his most desirable position or place – it was in Yehovah's Presence – it was to be the focus of Abba's attention.
"He indeed is good for His lovingkindness is everlasting." Two important Hebrew words bring revelatory light to this great need we have for obedience. Good [Hebrew: Tov] & loving kindness, or mercy [Hebrew: chesed]. When His Presence is passionately sought, His goodness [tov] is released and manifested, and Yahweh's love and mercy [chesed] shifts all earthly realities. The divine substance of His good surrounds the believer while the substance of His love protects against all harm while both explode in the glories of His light.
"'He indeed is good for His lovingkindness is everlasting,' then the house, the house of Yehovah, was filled with a cloud, so that the priests could not stand to minister because of the cloud, for the glory of Yehovah filled the house of Elohim."
Heaven broke through the veil that separates. This portal brought Yahweh's Presence to earth literally. The priests were overcome and became Yehovah's Kingdom representation. To be in Yehovah's Presence in a manner like this is the only obedience that has any meaning to our Creator. That obedience becomes a phenomenon in this world.
"But you are a chosen race, a royal priesthood, a holy nation, a people for God's own possession, so that you may proclaim the excellencies of Him who has called you out of darkness into His marvelous light; for you once were not a people, but now you are the people of Elohim; you had not received mercy, but now you have received mercy." 1 Peter 2:9-10 "You also, as living stones, are being built up as a spiritual house for a holy priesthood…" (1 Peter 2:5-6) (see also, Psalms 17:6-8)
Your obedience is to come into His Presence and remain. It is phenomenal when He reveals Himself in, with, and from you.
---
This article is from Wayne's newest book, "The Obedience Phenomenon," which is soon to be published. Check out Wayne's Amazon Author's page here. Wayne actually wrote the main portion of this article for His ministry partners in April 2019 to include it as a chapter in the book. Click here to find out more the Partners of Standsure Ministries.
« More posts